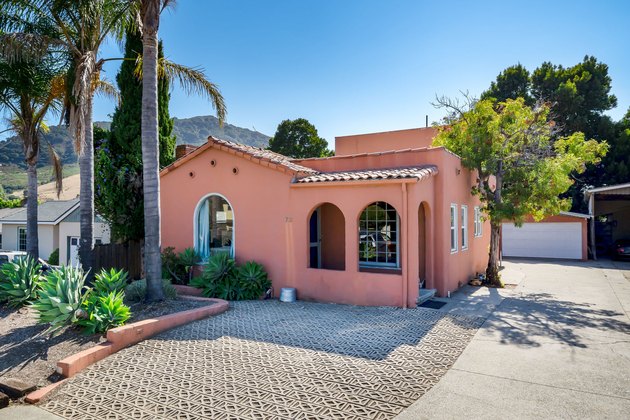 Along with upping your home's curb appeal, painting the exterior of your house before listing it might help your home sell faster. "A good paint color on the exterior does the same for a home that a great little black dress does for a first date," explains Amanda Dunton. "It sets the tone for potential buyers of what's inside and can help set you apart in an otherwise tight market."
Not sure what color to paint the exterior of your place before putting it on the market? Caroline Biggs of Hunker Magazine asked Amanda Dunton, Jennifer Campa, Andrea Soderin, Lindsey Harn, and Kristen Gentry top real estate professionals at Richardson Properties for their take on Exterior Paint Colors That Can Help Your Home Sell Faster.
1. Mint Green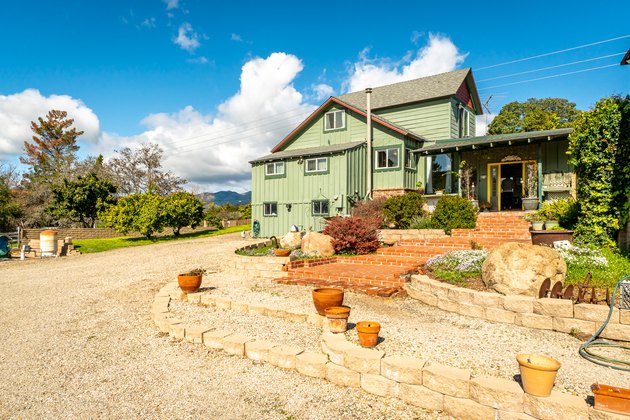 For a quick sale, realtor Jennifer Campa of Richardson Properties says sellers need an exterior color that will complement the surrounding landscape. "Greens are wonderful choices for homes in the countryside or the great outdoors," she explains. "Mint green has become a popular color that's fresh and welcoming, which will appeal to buyers. Its earthy tones will give your house a calming and warm look that will tie in well with natural surroundings."
2. Muted Yellow

A little yellow paint goes a long way on the exterior of your home. "A muted shade of yellow, with tan undertones, is warm and classic, and is unlikely to offend buyers," says Andrea Soderin, a realtor at Richardson Properties. "If you're looking for a quick house sale, it's a safe option that buyers will love coming home to every day. It also complements most design styles and can be matched with a wide variety of trim colors to cater to personal tastes."
3. Light Red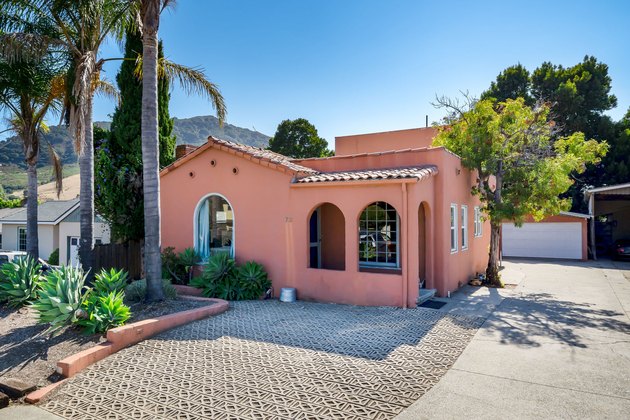 Looking for an exterior paint color with a pop of personality? Realtor Lindsey Harn of Richardson Properties suggests a bold but muted shade of pale red. "Light red is an excellent exterior paint choice, particularly for Spanish-style homes," she says. "It can provide a calmer feel than bold reds, while still retaining a stand-out effect from other houses on the street. A white trim is a great pairing for this color to add character and depth."
4. Sage Green
For a fashionable exterior paint color that won't overwhelm potential buyers, realtor Kristen Gentry of Richardson Properties suggests an earthy shade of sage green. "Greens are known to accentuate the design of a house, so it's a good choice if you're looking to sell a contemporary or unique home," she explains. "Sage green has been particularly on-trend this year, which will add curb appeal and attract more buyers. Plus, pairing this color with a dark gray or black trim will give your home a clean, polished-looking finish most buyers are looking for."
5. Deep Blue-Gray
Prefer your neutrals with a dash of drama? Gentry says a deeper shade of bluish-gray paint makes a sophisticated statement on an exterior. "Grays have replaced beiges as the go-to neutral color in recent years, and richer ones with a hint of blue will give your house added appeal," she says. "Gray-blues will also match any house style and will give your home warmth. For an extra wow factor, pair the color with some brickwork to provide a bold contrast while adding a textural effect."
About Hunker Magazine
Hunker is an Interior Design and Home Decor site that features home tours, product recommendations, personal essays, and design tips for homeowners and apartment-dwellers.
Looking to sell your home? Contact one of our Richardson Properties team members today or call us at 805.781.6040.